Pantone Color of the Year 2023
Welcome to the Magentaverse. Pantone color of the year 2023, Viva Magenta 18-1750. A bold color to be sure.
Says Leatrice Eiseman Executive Director, Pantone Color Institute:
This year's Color of the Year is powerful and empowering. It is a new animated red that revels in pure joy, encouraging experimentation and self-expression without restraint, an electrifying, and a boundaryless shade that is manifesting as a stand-out statement. PANTONE 18-1750 Viva Magenta welcomes anyone and everyone with the same verve for life and rebellious spirit. It is a color that is audacious, full of wit and inclusive of all.
If you're interested in using Magenta for your 2023 upholstery projects, especially at Cape Cod Upholstery Shop, check out the selection of upholstery fabrics from United Fabrics. They've posted an excellent presentation on their Pinterest Page.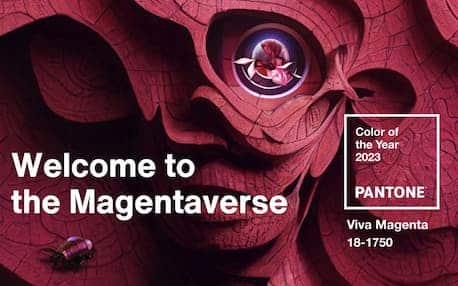 "Rooted in the primordial, PANTONE 18-1750 Viva Magenta reconnects us to original matter. Invoking the forces of nature, PANTONE 18-1750 Viva Magenta galvanizes our spirit, helping us to build our inner strength."