About Us
Cape Cod Upholstery Shop
Furniture Upholsterer on Cape Cod
I'm Joe Gramm, owner and upholsterer at Cape Cod Upholstery Shop.
I moved to Cape Cod with my wife Marge in 1984 after selling my upholstery business in Sarasota Florida. Both my wife and I are native to New England, but met in Florida. Marge was born and raised in Rhode Island and I was born and raised in Massachusetts.
We moved to YarmouthPort, MA and started up the new upholstery shop. The business name back then was simply Joe Gramm. I want to give credit to a few people for giving me my start here on Cape Cod. First to Lee & Dory Marchildon for renting a cottage to us on Cape Cod Bay with a workspace for the upholstery shop. And Bob Quasha, for giving me my first pieces of work to do on Cape Cod with many more upholstery jobs over the years.
In 1990 we moved to our current location here in South Dennis, MA. I changed the business name to Gramm's Workshop. The business continued to grow. Often, someone would say they thought they were going to get a grandma for an upholsterer because of the name Gramm's Workshop.
I had the opportunity to acquire the domain name capecodupholstery.com and I changed the business name to Cape Cod Upholstery Shop. The business name has evolved over the years and I sure have upholstered a lot of furniture and made a lot of cushions since 1984. I have a Photo Gallery with currently twenty-one pages of photos. Just about all of my customers are excited to have me take photos of their finished work and publish them to my website. I have said it many times, but I truly have the greatest customers in the world. So if you have the time, please click the link below to visit both my Resume and Photo Gallery.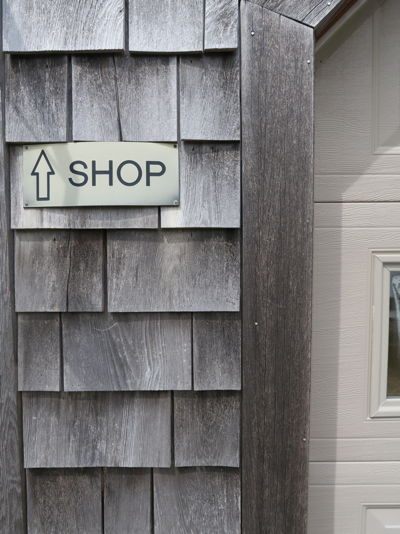 Cape Cod Upholstery Shop is Solar Powered
A Green Enegy Upholstery Shop in South Dennis, MA
Cape Cod upholstery Shop gets it's electricity from a 10.38 kW roof top solar panel array installed at my residence next door.
Powered by 31 SunPower SPR-X21-335-BLK panels.
The SunPower panels were expertly installed by E2 Solar, conveniently located right here in Dennis, MA. I highly recommend both SunPower panels and E2 Solar.
The solar panel array has been able to generate up to 9kW of electricity in the Spring. During the Winter, the solar panels had a coating of snow on them and still put electricity back into the grid. The Summer will obviously produce the most electricity.
The Professional Upholsterer
Upholstery Magazine from 1988
I have always been impressed by my copy of The Professional Upholsterer magazine dated February March 1988. The cover has a picture of a computer describing personal computers as the newest upholstery tool. Cape Cod Upholstery Shop, well Joe Gramm back in 1988, bought the first computer for the business in 1986 to run my accounting and invoicing program. It was a Leading Edge Model D running Microsoft DOS. Very similar looking to the personal computer on the magazine cover. So I was two years ahead of the magazine article for my upholstery business.
Then and now the computer has always been an invaluable part of my business. After the Leading Edge I bought an Apple Macintosh Centris 610 and then the iMac Bondi Blue and Apple iMacs ever since.