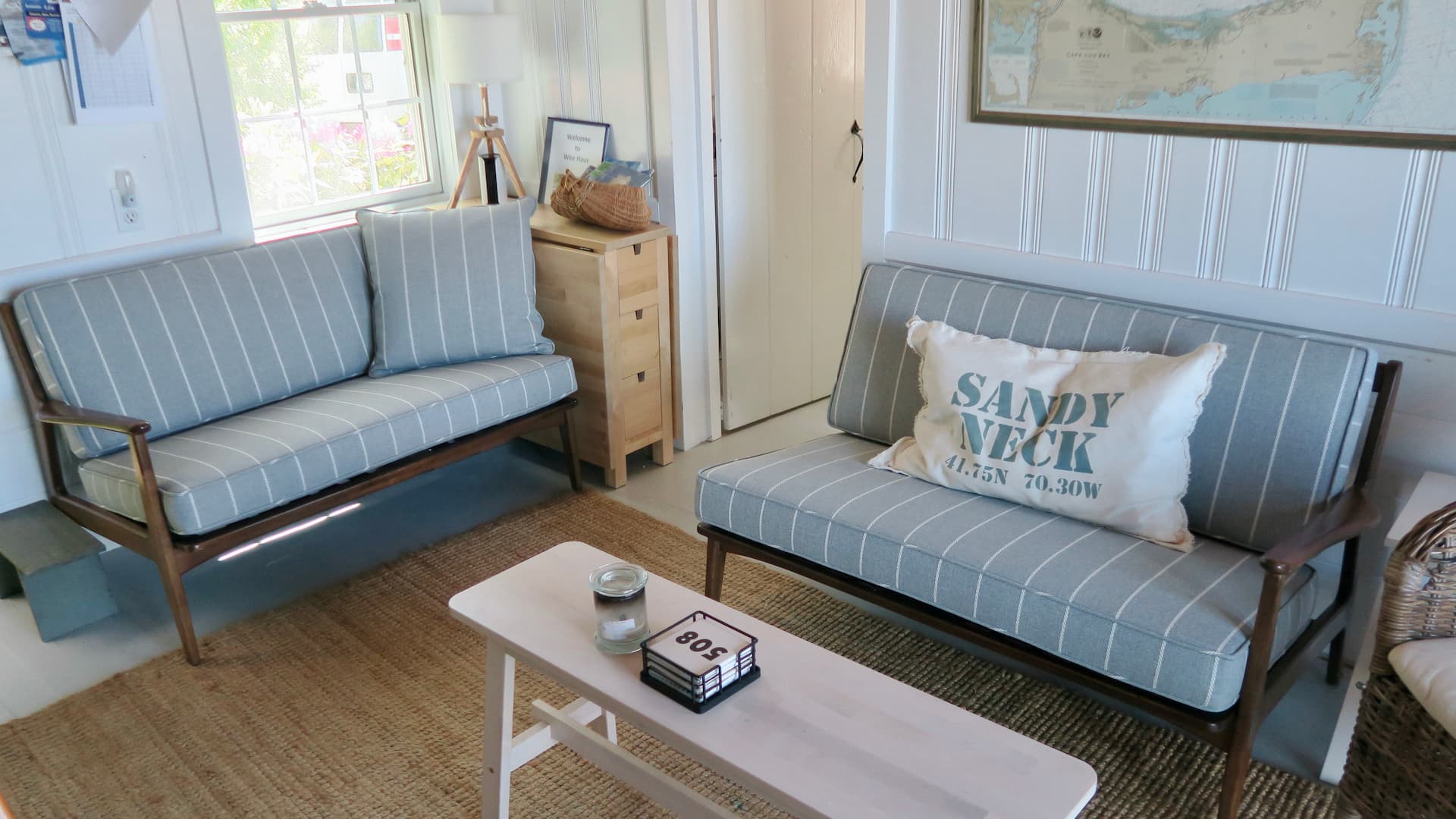 Looking for a furniture upholsterer on Cape Cod – Joe Gramm of Cape Cod Upholstery Shop has been offering high-quality custom furniture upholstery and cushion fabrication on Cape Cod since 1984.
Cape Cod Upholstery Shop is a classic one-person upholstery shop. Small scale upholstery and cushion projects are preferred. I'm busy all year long, please allow 2 to 8 weeks for completion of your work. Plan ahead | email me photos | pick out a fabric | get a quote | get on my schedule
Cape Cod Upholstery Shop specializes in:
Small scale upholstery and cushion projects by an experienced upholsterer
Cushion fabrication such as: window seat cushions, wicker and rattan cushions, outdoor patio & deck cushions, wood furniture cushions, & throw pillows
Sunbrella upholstery fabric, Crypton upholstery fabric, Revolution upholstery fabrics, Upholstery fabrics "Made in the USA", chemical free upholstery fabrics.
2.6 high density foam with CertiPUR-US Certification
Cushion insert replacements
Pirelli rubber webbing replacement for Mid Century Modern teak furniture
Most of all, free and helpful advice
Sunbrella and Revolution indoor-outdoor fabrics along with Crypton stain protected fabrics are excellent choices for your Cape Cod home and lifestyle.
A typical Cape Cod home has sun, high humidity, kids, pets and guests. Consider Sunbrella and Crypton performance fabrics to be a wise investment in all your furniture upholstery and cushion projects.
Email Me photos of your work for a Free Estimate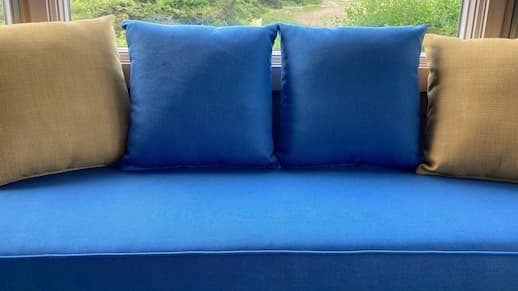 Get a Quote from Cape Cod Upholstery Shop:
Emailing me a photo of your upholstery and cushion project is the fastest way to get a free preliminary estimate.
I provide you with a preliminary estimate based on your photos. A trip to your home may be needed to measure for fabric, check the condition of the furniture or take a template for cushions.
Once a final quote is given, a deposit is collected and the work is scheduled.
Upholstering furniture at Cape Cod Upholstery Shop:
The old fabric is removed and all repairs like gluing the frame, tying springs, replacing padding, cleaning exposed wood and many other details are done. Making sure the structural support of your upholstered furniture is in good shape is an important step in the upholstery process.
Next in the upholstery process is the fabric. The fabric is cut, sewn and upholstered to the furniture, making sure the fabric is on straight, the fabric is taut, and the patterns are matched.
Furniture is delivered back to the customer. The customer is 100% satisfied because the job was done correctly from start to finish.
Cushion Fabrication at Cape Cod Upholstery Shop:
Templates are made and measurements are taken, assuring the finished cushion will be a perfect fit.
Special attention is made to pattern matching, square cushion corners and straight welting cord.
Use your original cushion insert or have new inserts made out of foam and dacron or feather and down.
Cushions are delivered and the customer is 100% satisfied because the cushions fit and look good.
Collecting MA Sales Tax on Upholstered Furniture
Paying Massachusetts sales tax on upholstery can be confusing. The Massachusetts Department of Revenue regulates upholstery as a Fabrication. The total invoice amount is taxed at 6.25%. Labor, supplies and fabric are taxable. Labor is taxable even if the customer supplies the fabric. Not Taxable are certain repairs, shipping, pickup and delivery.
Click Here to read the MA sales tax regulation for upholstery
Go to Section: (3) Fabrication
Go to section: (5e) Specific Applications / Reupholsterers
Upholstery Fabric at Cape Cod Upholstery Shop
Cape Cod Upholstery Shop can provide fabric for all your upholstery projects. Begin your search by looking at fabrics online. Simply click the links below, find a sample(s) you like, and I can have

free memo samples shipped directly to you. It's always best to see and feel the fabric in hand before purchasing fabric you've seen online.
10,000 designer fabrics | indoor – outdoor | Crypton
Fade resistant | washable | indoor – outdoor | Maid in USA
Sunbrella Authorized Distributor
Sunbrella | Crypton | Bella-Dura
Chemical Free | Made in USA
High end exclusive fabrics | Washable | ECO Friendly | High Abrasion
High End Prints and Embroidered Fabrics
Designer Fabric | Kravet Furniture
Sunbrella | Crypton | Inside Out
Residential and Commercial Fabric and Vinyl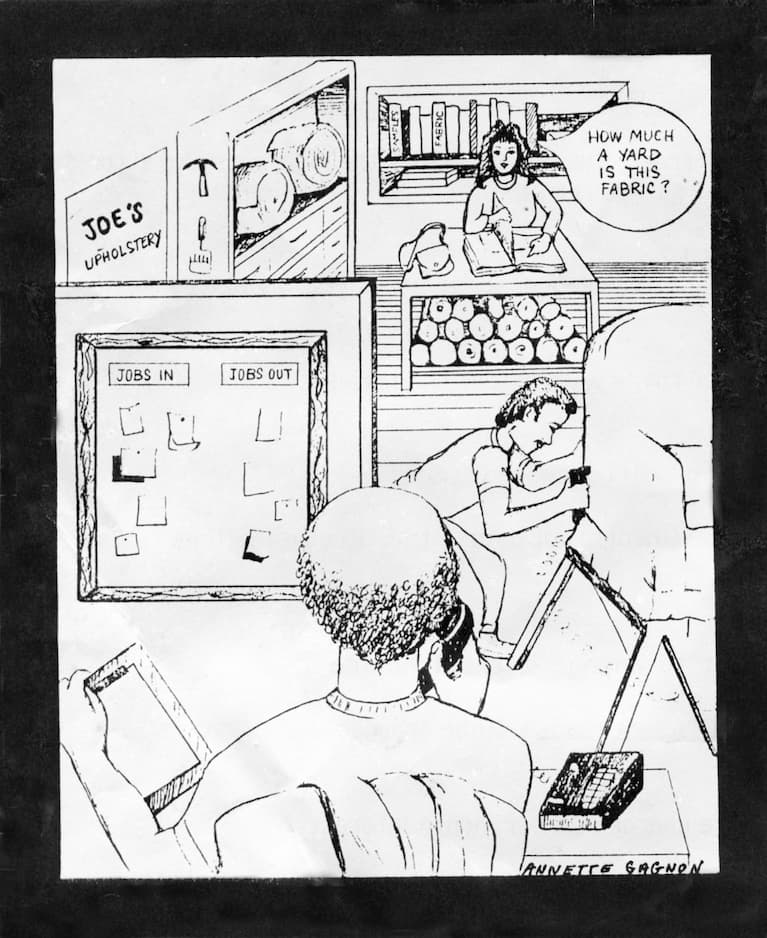 Checks, Zelle and Cash are Preferred
Credit Cards and Debit Cards Accepted
Cape Cod Upholstery Shop serves the towns of Barnstable County:
Bourne MA | Falmouth MA | Sandwich MA | Barnstable MA | Yarmouth MA | Dennis MA | Harwich MA | Brewster MA | Chatham MA | Orleans MA | Eastham MA | Wellfleet MA | Truro MA | Provincetown MA