My Resume
Joe Gramm Custom Upholsterer
Owner | Cape Cod Upholstery Shop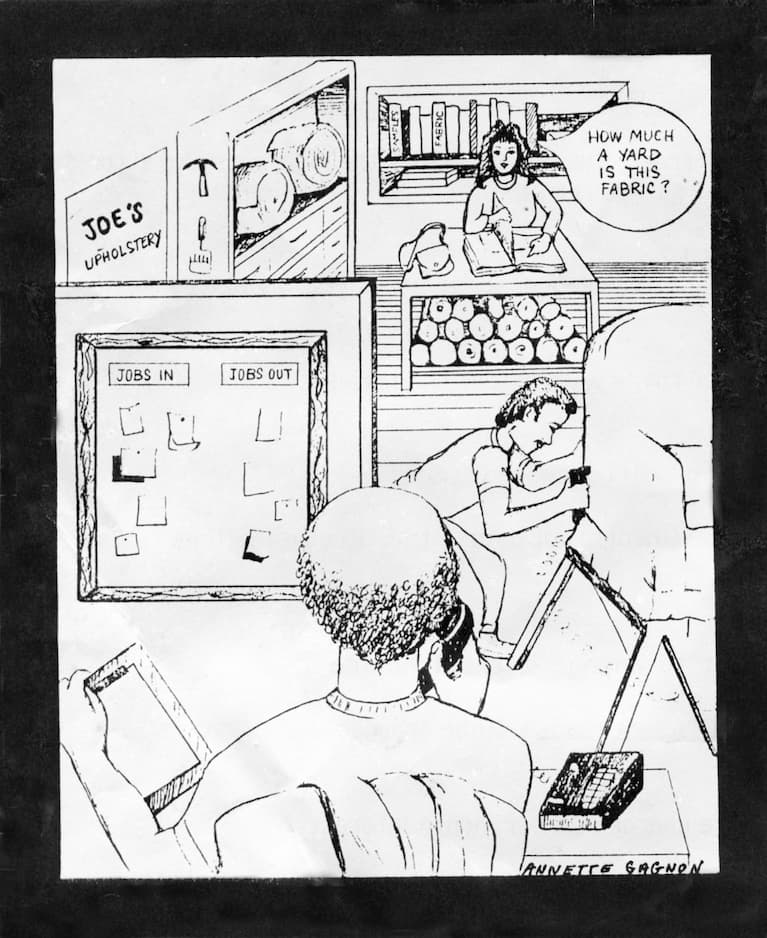 Business Objective
To make your furniture upholstery experience with me a worth while experience.
Joe Gramm Resumé
Where work experience meets life!
At Age 15
My Resume starts with my first job working at Cumberland Farms in Hull, Ma. My sister Leona was the manager and I stocked the shelves and coolers as well as assisting the customers. My next Summer job was at the famous "Paragon Park" in Hull. There I worked the concession stands making burgers, fries and cotton candy for a lot of motorcycle club members from the the Hells Angels and the Devils Disciples. It was at Paragon Park in Hull where I learned the value of getting the job done right the first time when motorcycle club members came to the window to pick up their food!
My Resume starting out as an old fashioned apprentice
1971-1974
My first upholstery employment, at age 16, was with Arthur Gaudreau of Hingham Upholstery, in Hingham, MA. I started out as a classic old fashioned upholsterer's apprentice. I learned how to pick up and deliver furniture, remove the old fabric from the furniture, tie springs and glue frames, eventually learning to work with the finished fabric. I also observed how Arthur took care of his customers. It was a lot of fun working for Arthur. His wife Dottie was an incredible cook and baker. Every single day Dottie would bring into the upholstery shop some sort of baked good and coffee for a snack. Arthur even let me occasionally drive his 1936 grey pickup truck. I still can't believe he trusted me as a teenager with this beautiful truck. But I never let him down when I was behind the wheel. I was also lucky enough to work with Joe, another Joe, a part time upholsterer Arthur would have come in specifically to make new horse hair seats for antiques. Joe was a master at horsehair seats. He was the last of the upholsterer's I've met that spit tacks. A method of putting a bunch of tacks in your mouth and then grabbing them one by one with a magnetic hammer. Spitting tacks was the precursor to the staple gun I guess. Arthur sold the business and moved to New Hampshire and then later to Maine. With the upholstery experience I learned from Arthur I was readily able to find a new job.
The Upholstery Shop in Cohasset, MA
My Resume 1974-1979
My next employment was with Anne & Warren Sillcocks at The Upholstery Shop in Cohasset, MA. I was hired as sort of a journeyman upholsterer. But then, two off their upholsterers suddenly died. One from a heart attack and the other from a car accident leaving work one day. I suddenly found myself as the head upholsterer with quite a bit of responsibility. This is when I started to develop my skills as a head upholsterer. Ann & Warren treated me great. It was my first and only job I have ever had with benefits. They paid me a very wage with health insurance and even vacation time. During this time I started to do small upholstery jobs out of my home and started to develop the skills needed to run my own business. I don't think Anne & Warren appreciated me working at home. In some ways I could see their point of view. But I was doing small upholstery jobs for family and family friends. In all honestly, good or bad, this is how most upholsterers end up starting their own businesses. They start out working for someone and then eventually start their own business. In 1979 I moved to Florida to begin a new chapter for My Resume.
Sunny Sarasota Florida
My Resume 1979-1984
I bought an established upholstery shop in Sarasota Florida called Ranes' Upholstery. The owner, Mark Ranes, agreed to stay for a few months to help me get acquainted with the business. Here, my skills as upholsterer and business owner came together. Over the years I had several employees. One part time employee was Mrs. Levin's. Mrs. Levin's was an older women who was a master stitcher. She worked her whole life at the Sarasota Mattress Company sewing mattresses. She could stitch the welting, boxing and cushion top all at the same time. Anyone who has ever sewn a cushion knows how hard that is to do. After a few years, Mrs. Levin's decided to retire. I met my wife Marge when she came in to interview to be a stitcher. I gave Marge the job and we've been together ever since. Ironically she & I both were from New England. Marge was from Rhode Island and I was from Massachusetts. After owning the upholstery business for a bout 5 years, the amount of upholsterers in Sarasota made it difficult to make any money. There were literally 4 double sided yellow pages for upholsterers in the Sarasota yellow pages book. So in 1984 I sold the business. Marge & I embarked on a two month trip across the United States and Canada. After that trip, it was back home to New England, settling on Cape Cod.
Beautiful Cape Cod, MA
1984-Present
We eventually settled, at first, in Yarmouth Port, MA. We rented a wonderful cottage on Cape Cod Bay from Lee & Dory Marchildon. For several years we operated the business from a walk-out basement on the property. In 1989, Marge and I married. Our business was rapidly growing, so in 1990, we bought a piece of property in South Dennis where our home and business are presently located. The upholstery business is located in a detached oversized building on the property. Working as a home based upholstery business helps keep the overhead expenses low and my work quality high.
Computer Experience with DOS
1982-1993
My Resume for computers starts with taking a computer class with Marge in 1982 at Sarasota High School in Florida. The computers were Tandy TRS 80s, that you had to write the code for. I decided writing code wasn't for me. Shortly after Marge and I moved back North to Cape Cod. In 1986 I bought an IBM compatible, Leading Edge DOS machine to do the accounting and Invoicing for the upholstery business. Also in 1986, I wish I had bought Microsoft stock, but, I didn't.
Apple Experience
1993-Present
My Resume for Apple Computers starts with Apple Operating System 7, to OS 8, 9 and now macOS 10 High Sierra. From Floppy Disk to DVD and now Flash Memory. From 56K Dial-Up to cable and wireless networking. My first business website was built with Apple Homepage in 2001. Homepage was replaced with Apple iWeb in 2006 and I've been using iWeb as my website builder ever since. I use several of Apple's gadgets like the iMac, iPhone, iPad, Apple TV and Airport Extreme wireless router. "Think Different".
Website Development
2001- Present
My resume for website building is with Apple Homepage. HomePage was introduced in 2000 and was a very basic drag & drop HTML editor. HomePage was a system for building your own web page hosted on Apple's own servers. HomePage for me didn't really have an online presence. My website was published to the Internet, but I used it mostly to show customer photos of my work in the photo gallery. HomePage had a pretty good photo gallery.
Then in 2002 Apple introduced iWeb. iWeb was not an upgrade to HomePage, but an incredibly powerful drag & drop HTML editor. A game changer. It came out around the same time when websites were really starting to create an online presence for business of all kinds. I was way ahead of all the upholstery shops on Cape Cod. Customers could search online for an upholsterer on cape Cod and my website was at the top of the search results. And my website photo gallery became my type of personal reference page. Unfortunately Apple stopped supporting iWeb several years ago, but I've continued to use for my business site Cape Cod Upholstery Shop. That is until I found out about BoldGrid.
In 2018 It was hard for me to goodbye to my old and trusted friend iWeb, but now Cape Cod Upholstery Shop runs on WordPress and a website builder plugin called BoldGrid. The great things about BoldGrid is it creates highly responsive content. What that means for me is I build one website, but the content works seamlessly on Desktops, laptops, tablets and mobile phones. So as much as I'll miss iWeb, BoldGrid is a much better experience for my customers because from what I can tell, a lot of them access my website via a mobile device.
In 2021, Im still building my own websites and still using WordPress and BoldGrid, but now using the BoldGrid Super Theme Crio. Crio is highly responsive and works excellent on mobile devices. More people now access my website with mobile devices than with desktop computers. I'm an old fashioned upholsterer with a 21st Century website, built for the modern world.
In 2022, I'm celebrating 50+ years as an upholsterer and 42+ years as a shop owner. Age 16 doesn't feel very long ago. 2022 has brought some changes with it. I'm no longer working on large pieces of furniture like sofas and large chairs. I'm now concentrating on small to medium size upholstered furniture and cushion fabrication.
Formal Education
Graduate of Hull High School in Hull, Ma Class of 1973.
Tied Hull High School record for 100 Yard Dash in 10.0 Seconds | 3 Letters in Track & Field
Qualifying Skills
Considering my 50+ years of experience as an upholsterer, I hope you find my qualifications to be both entertaining and satisfactory.
For Fun
I love hanging out with my wife Marge and raising our three daughters.
I also enjoy Ultimate Frisbee, music, photography, living and working on Cape Cod.